В окрестностях Сарла, между ним и Lascaux можно посмотреть восхитительный сад, территория которого занимает 10 гектар, заполненных зелеными скульптурами. Уливительный пример садово-паркового искусства — один из «Plus Beaux Jardins de France» (Самых Красивых Садов Франции). Можно прогуляться (самостоятельно) по парку, информацию можно получить в туристическом гиде, который предаставляется на 6 языках перед входом в парк. Маршрут сквозь парк обозначен на информационных панелях.
Время работы:  круглый год
1 января — 31 марта: 10:30 — 12:30 / 14:30 до темноты
1 — 30 апреля: 10 — 19
1 мая — 30 сентября: 9:30 — 19:00
1 — 31 октября: 10 — до темноты
1 ноября — 31 декабря: 10:30 — 12:30 / 14:30 — до темноты
Адрес: Les Jardins du Manoir d'Eyrignac 24590 SALIGNAC Dordogne – Périgord
GPS: « Salignac-Eyvigues » (Château d'Eyrignac) 44.939130 1.315900
Билет: 12.50€, до 6 марта — 9.50€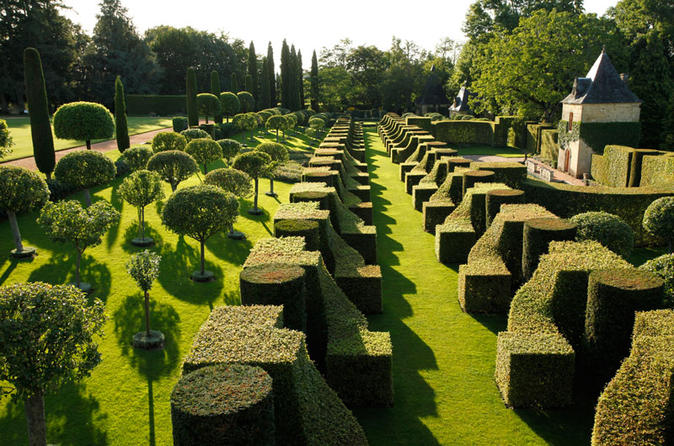 First laid out in the 18th century, the gardens of this
manor house form a cool oasis of greenery amidst the
dry, rocky limestone of the Périgord Noir. Watered by
seven springs, they were made over in the Romantic style
in the 19th century, but within 100 years had fallen into
such neglect that it took the owners, Gilles Sermadiras
and later his son, nearly 40 years to restore them to their
full glory. They finally opened to the public in 1987.
Today, the gardens are a mix of the more formal French
and wilder-looking Italian styles, with rolling lawns and
a mass of mature trees and shrubs, such as box,
yew, hornbeam and cypress. The French
garden, a masterpiece of symmetry and order,
with topiary and carefully arranged parterres,
stands in stark contrast to the more irregular,
"jigsaw" of the Italian garden. There are also
many surprises to delight the visitor, such
as secret nooks and unexpected vistas.
Hornbeam Walk
Running parallel with the
urn-lined walk, this long,
grassy, hornbeam-lined
avenue is a geometric
masterpiece in a palette of
harmonious greens. The
meticulously trimmed yew
and hornbeam create an
impressive perspective.
English Arcade
Covered in vegetation that
casts subtle patterns of light
and shade, this walkway
leads from the pavilion,
beside the Hornbeam Walk,
to a sandy courtyard
fronting the manor house.
White Garden
Planted only with white roses, this consists of parterres
running along wide, straight avenues. In early
summer the flowers fill the air with a delicate scent.
The Pools
Laid out in a geometric pattern,
five pools complement the rose
garden. The large central pool
is surrounded by fountains.