Тарнское ущелье или Горж-дю-Тарн (фр. gorges du Tarn) — ущелье в горах Косс в департаменте Лозер на юге Франции. Часть ущелья находится на территории департамента Аверон.
По дну ущелья протекает река Тарн. Геологически Горж-дю-Тарн делит плато Косс на два плато — Косс-Межеан и Косс-де-Советер, сложенные известняковыми породами. Длина ущелья (от коммуныКезак до Ле-Розье) составляет 53 км, глубина — до 500 м.
Ущелье популярно среди туристов, а также среди альпинистов, спелеологов и каноэистов. Среди достопримечательностей ущелья — разрушенный замок Кастельбу.
The architecture of the gorges involves Mesozoic limestone plateaux downstream presenting sub-vertical cliffs. Faults like the Hauterive Fault upstream explain the important water sources in the region of Sainte-Enimie (the Burle source and the Coussac source, the latter joining the Tarn in an impressive waterfall), and the more complex geology.
In the Quaternary, the gorges were also affected by a volcanic activity whose traces can be found in the Causse de Sauveterre, in the form of a double or anticlinal volcanic dip, and in the basaltic rocks next to Eglazines.
The climate is Mediterranean, with relatively mild winters and very warm summers.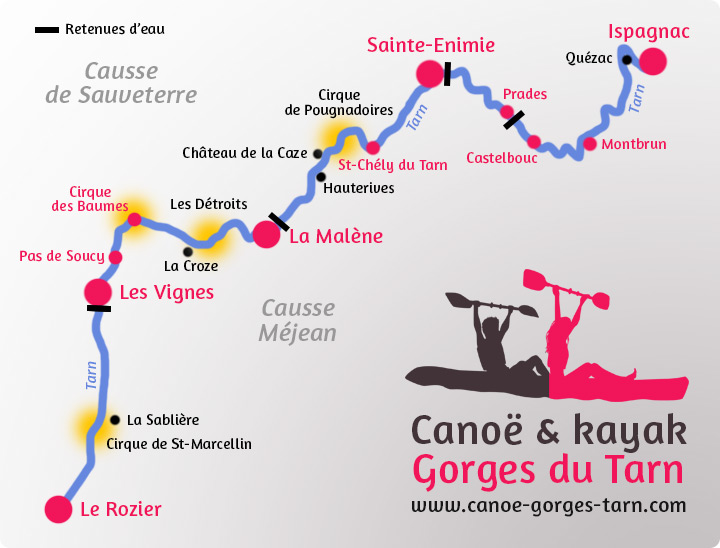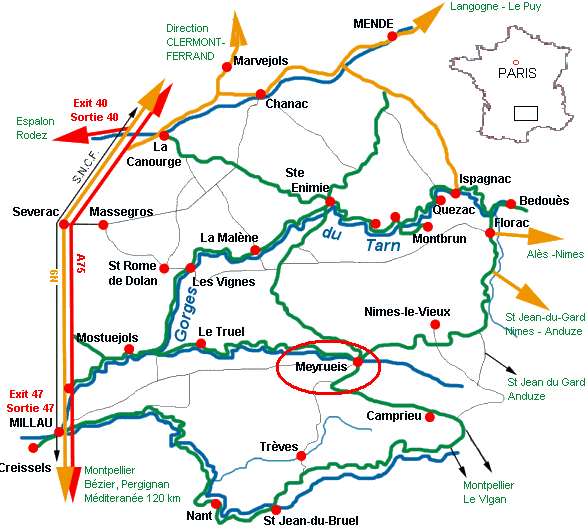 BY ROAD
From the A75 motorway

10 km from exit A42 at Sévérac-le-château

15 km from exit A40 at La Canourgue

2h from Montpellier and Clermont-Ferrand


45min from Mende by the D32 and the N88

15 min from the Millau Viaduc

SNCF Railway

Station at Sévérac-le-château — Tel: 05 65 71 61 19

Station at La Canourgue — Tel: 08 36 67 68 69
For more informations, meeting on www.sncf.fr

AIR

1 heure from Rodez Airport — Tel: 05 65 76 02 00

2h from Clermont-Ferrand


2h from Montpellier
For more informations, meeting on www.mappy.fr
The river Tarn is par excellence. The cliffs and dolomites consist titanic silhouettes fortresses whererocks accompany throughout the lozérienne party.
Tarn Gorges are the most beautiful, fruit of water work limestone plateaus, the Tarn Gorges have a history and magical places, often clinging to the cliffs villages embedded in the rock hers where man and stone mix. 
Tarn Gorges stretch between Sauveterre and Causse Causse Mejean in a light box.
From Florac and its tributary the Tarnon through Quézac small become large mineral spring, one can discover the castles and old manor Castelbouc and Prades, the field of Charbonnières up to Saint Enimie the aptly named.     Over water St Chely du Tarn and its chapel, Château de la Caze and the hamlet of Hauterive take you to La Malene and those famous skippers sailing in the majestic Straits (scenic and unique site in the region).     The rock of Hourtous on Causse Mejean, Point Sublime on the Causse de Sauveterre are the best observation posts that are on the Tarn Gorges. No chance of dominating the Gorges better way than these two places.     The rest of the tour will take in the amphitheatres and circuses high and low Balms, in the chapel of Saint Hilaire pilgrimage of a «sourcette» that would cure the eye diseases.     Pas de Soucy We can not ignore and mystery associated with Enimie young Merovingian princess, daughter of King Dagobert, willing to devote themselves to God and refusing her suitors asked the Lord to send him something. It hearkened to his wish and gave him leprosy.     His dismayed parents sent him to the Tarn gorges where she bathed in a miraculous spring. The Burle that cured leprosy Enimie therefore decided to build a monastery in the country but the devil was trying to destroy him. One day, she took holy water, continues the devil and No Soucy arrived at the huge rock of Causse Roquesourde down and shattered in the Tarn to stop the flight of the devil who went back into the pit of hell dug by the rock falls.     The legend of St. Enimie is one with the geography of the country.     The Tarn then resumes its peaceful current head of the majestic Planiol des Vignes and further downstream the village of Rozier and the confluence with Jonte. Numerous springs feed the river from the bowels of the Causse Mejean and Sauveterre. Nowhere but in this deep part of France, it shall in so little space to feel the extent of the resources that nature offers.
 «Roches et géologie» :
Circuit d'Ispagnac. (1345Ko).

 «Les Grands horizons des causses :
Circuit de Meyrueis. (1382Ko).

 «L'habitat des Gorges aux causses» :
Circuit du Rozier. (1424Ko).

 «Les grands panoramas» :
Circuit des Vignes. (1421Ko).

 «Causse Noir, chemins d'eau» :
Circuit de Peyreleau. (1519Ko).

 «Vivre sur le causse» :
Circuit de Sainte Enimie. (1543Ko).

 Carte récapitulative
6 circuits de découverte (1135 ko).
Informations pratiques
 carte touristique des Cévennes et Gorges du Tarn (10.2 Mo)

 sites à visiter en Cévennes et Gorges du Tarn (1.1 Mo)

 Cartoguide activités de pleine nature (3.3 Mo)

 liste des gîtes d'étape du secteur Parc National des Cévennes (714 ko)

 règlementation de la pêche en Lozère 2014 (524 ko)

 Aires Campings-cars Lozère (638 ko)
Nos brochures numérique
 Brochure pêche (1.3 Mo)

 Brochure campings (1.4 Mo)

 Brochure randonnées (1.7 Mo)

 Brochure produits du terroir (1.4 Mo)

 Brochure marchés (1.1 Mo)

 Brochure pour les enfants (1.5 Mo)

 Brochure transport (2 Mo)
Idées de randonnées
 randonnée pédestre en boucle au départ de Saint-Chély du Tarn (1.2 Mo)

 randonnée pédestre en boucle au départ de Sainte-Enimie (1.5 Mo)

 randonnée pédestre le long des Gorges du Tarn (2.2 Mo)

 sentier ermitage de Sainte-Enimie (1.5 Mo)
 Gorges du Tarn et causses à vélo : 7 circuits de 45 à 75 km (7.3 Mo)
 questionnaire : la qualité de nos sentiers (109 ko)

 ouvrages disponibles à la vente (VPC) : rando (459 ko)



Approx. 75 Km

Tour du Causse de Sauveterre




Approx. 75 Km

Between Causse de Sauveterre and 

Causse Méjean




Approx. 85 km

Gorges du Tarn, Jonte and 

the Causse Mejean




Approx. 105 km
LE POINT SUBLIME
48500 Saint Georges de Lévejac
04 66 48 81 18
View point over the Tarn Gorges
Free access and parking
Gift shop and refreshments available
AVEN ARMAND
48150 Meyrueis
04 66 45 61 31The magical cave, straight out of A Thousand and One Nights, is a *** tourist site.
A truly breathtaking cave, containing 400 stalagtites, including the world's tallest.
A visit to the cave costs 8.50€ per adult and 5.80€ per child.www.aven-armand.com
contact@aven-armand.com

---

LES BATELIERS DE LA MALENE
48210 La Malène
04 66 48 51 10

Guided tour of the Tarn by barge (8km/ 1 hour)
Per person : 20 €
Group rate : 17 € per personwww.gorgesdutarn.com
lesbateliers@gorgesdutarn.com

---

BELVEDERE DES VAUTOURS
Le Truel
05 65 62 69 69Superb observatory from which to view the Gorges' vulture population in action
adults : 6.5 € / Childrens : 3 €.www.vautours-lozere.com

---

LES BISONS DE MARGERIDE
48120 Sainte Eulalie
04 66 31 40 40Enjoy a guided tour of the bison park in a horse drawn cart.
Adults : 12 € / Childrens : 6.5 €.http://www.bisoneurope.com
info@bison-europe.com

---

LA FERME CAUSSENARDE D'AUTREFOIS
48150 HELZAS
04 66 45 65 25Visit a real, working farm straight out of the XIX century. Regional architecture, local furniture and linens, old agricultural tools and machinery, photographs of life as it used to be… learn about the lives of the inhabitants of the region up until the 1950s.Adults: 5.5 € / Childrens : 2.20 € (free — 7 years)  Group rate adult: 4.5 €  Group rate school age: 2 €

http://ferme.caussenarde.free.fr
ferme-caussenarde@wanadoo.fr

---

GROTTE DE DARGILAN
48150 Meyrueis
La Grotte Rose
04 66 45 60 20The largest cave on the Causses and the Cevennes.  *** listed site.
Visit the cave, adults : 8 € /  Childrens : 5  €.

www.dargilan.com
contact@dargilan.com

---

LE POINT SUBLIME
48500 Saint Georges de Lévejac
04 66 48 81 18View point over the Tarn Gorges
Free access and parking
Gift shop and refreshments available

---

LE PAS DE SOUCY
48210 Les Vignes
04 66 48 81 40Le Pas de Soucy is one of the most important sites within the Tarn Gorges.est un des sites majeurs des Gorges du Tarn. A gigantic mass of rocks which overlooks the swirling Tarn far below at the bottom of the Gorge, from which the visitor can enjoy spectacular views from a viewing platform. A truly magnificent, deeply impressive site, epitomizing the age-old battle between water and rock that gave birth to this breath-taking landscape.

---

ABIME DE BRAMABIAU
30750 Camprieu
04 67 82 60 78Mysterious, unique and haunting, a subterranean river flows through an underground canyon.
New: return to your car quickly and easily through the new tunnel.
Visit the Abime de Bramabiau.
adults : 7.5 € / Childrens

 : 3.5 à 5 €.

bramabiau@aol.com
www.abime-de-bramabiau.com

---

MONTPELLIER LE VIEUX NATURAL ACTIVITY PARK
12720 Peyreleau
05 65 60 66 30Promenade Take a walk through the Grands Causses.Promenade au coeur des grands causses
Teenagers : 4.45 / Adult group rate: 4.40 €  Teenagers group rate: 4.15 € Children group rate: 3.70 €
Come and discover an amazing world, where water, wind and rock have tussled with one another to create unique formations from the grey stone of the Black Causse.  Five walking circuits, all clearly signposted, offer something for every level of fitness and energy. There is even a little train for those whose energy levels (or numbers of children) make walking a less than attractive option. If you are feeling particularly sprightly, why not try out the fully supervised Via Ferrata (rope lined path, involving scrambling, climbing, walking and even swimming).
Whatever your level, you are bound to find an activity to suit you.www.montpellierlevieux.com
contact@montpellierlevieux.com

---

LES LOUPS DU GEVAUDAN
48100 saint leger de peyre
04 66 32 09 22

A unique animal sanctuary, providing a home to more than 100 wolves over 25 hectares of land. Visit the sanctuary to experience at first hand the behaviour of the wolf pack, find out more about these fabulous and mythicial animals from experts, and learn about the numerous stories and legends surrounding th wolf, including the blood-curdling story of the Beast of Gevaudan.

www.loupsdugevaudan.com
infos@loupsdugevaudan.com

---

MICROPOLIS
12780 Saint Léons


05 65 58 50 50

15 minutes away from the Millau Viaduct, Micropolis, otherwise known as the City of Insects, is a very special theme park.  Immerse yourself in the fascinating world of insects; butterflies, ants, tropical insects, bees, and more than 50 species. Micropolis boasts an indoor exhibition and a sensational outdoor trail.  New for 2009: 'Insect Builders' exhibition, from 4 April 2009.
Adult: 10.90 € low season, 11.50 € high season. Children (5/14 years oldans) : 7 € 40 low season, 7 € 80 high season, free entry for children under 5.
Le Massegros

This little village is situated in the midst of fertile agricultural land

Saint Georges de LévéjacScattered with dolmens and numerous troglodyte houses, which have been extensively excavated
Saint Rome de Dolan

An extremely pictoresque village situated on the Sauveterre Causse
Les Vignes

Les Vignes is situated in the valley, profiting from maximum sunshine

Le Recoux

Le Recoux's year long dance festival is performed beneath the benevolent gaze of its church and chapels.