Bergerac was held alternately by the
French and the English during the
Hundred Years' War, and later became a
stronghold of the Protestant faith. Set on
the banks of the Dordogne, it developed
as a centre of trade, a stopping point for gabares
(traditional wooden barges) carrying
wood, blocks of stone, paper milled in Couze,
wines, locally grown walnuts and chestnuts
and other goods between the Périgord and
the port at Bordeaux. This Huguenot town
once had several harbours of its own. In the 18th
century, some 15,000 tonnes of goods and around
1,500 boats passed through every year. The present
quayside was built as late as 1838, but was rendered
obsolete by the arrival of the railway in the late 19th
century. Today gabares still set off daily from quai
Salvette, although they now carry a cargo of visitors
on scenic trips up and down the Dordogne river.
Добраться в Бержерак:
На самолете:
Bergerac Dordogne Périgord Airport
Авиарейсы в города Londres, Southampton, Birmingham, Bristol
Авиакомпании: Airliner — Ryanair — Flybe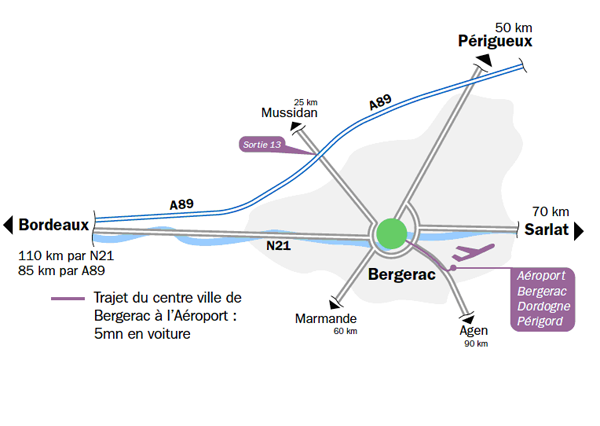 На поезде:
Маршрут поездов: Bordeaux — Sarlat
Время работы:
Вокзал:
по будням: 05:15/23:30
суббота: 06:10-21:30
воскресенье и праздники : 08:10/21:30
Билетные кассы вокзала:
понедельник — четверг: 05:50/19:40
пятница: 05:50/20:30
суббота: 06:00-19:40
воскресенье и праздники : 8:10-12:30/13:15-20:30
На машине:
— Paris : 600 км по A10 – A71 – A20 – A89 – D709
— Lyon : 507 км по A47 – A72 – A710 – D941 – N89 – A89 – A20 – A89– N21
— Bordeaux : 112 км по N89 – A89 – D709
— Toulouse : 205 км по A62 – N21
Парковки:
Синими значками отмечены бесплатные парковки, красными — платные.
Карта Бержерака:
Путеводитель:
http://www.bergerac-tourisme.com/IMG/pdf/bergerac_vag_gb.pdf
Road map D2. On the N21
Limoges–Agen. * 27 201. k
£ n 97 rue Neuve-d'Argenson
(05) 53 57 03 11). ( Wed am,
Sat am. _ Mercredis du Jazz
(Wed evenings in summer); folk
shows (Tue evenings in summer);
Fête des Vendanges (early Oct).
Vieille Ville
The old, half-timbered houses
of master-boatmen line place
de la Mirpe, where there is a
statue of Cyrano de
Bergerac, Edmond
Rostand's long-nosed
hero (see p200). Rue
Saint-Clar is lined with
corbelled houses, with cob,
brick and half-timbered
walls. Place Pélissière, in a
recently restored area of
the town, is named after
the skinners, whose
workshops once stood
there. With the Église
Saint-Jacques and Fontaine
Font-Ronde, once a public
wash house, it forms a
picturesque enclave. Place
Pélissière is the setting for
another statue of Cyrano de
Bergerac, which was erected
in 2005. Rue Saint-James has several interesting houses,
including an 18th-century
town house, with a shop
on the ground floor and
bosses on its façade, a
16th-century house with
mullioned windows, and
17th- and 18th-century
half-timbered houses.
Rue des Fontaines has
two medieval houses.
Église Saint-Jacques
Place Pélissière.
This 12th-century
chapel on the pilgrim
route to Compostela,
was enlarged in the 13th
century, when it became
the medieval town's church,
with a single-wall belfry. It
was later remodelled on
several occasions, the nave
being completely rebuilt in
the 18th century. The Neo-Gothic organ, built by Aristide
Cavaillé-Coll in 1870, is listed
as a historic monument.
Musée Costi
Access via the inner courtyard of
place de la Petite-Mission. Tel (05) 53
63 04 13. # Jul–Aug: pm daily. &
Opened in June 2003, the
museum fills two cellars of
the Presbytère Saint-Jacques. It
contains works donated by
Costi, a sculptor born in 1906
and who studied under
Antoine Bourdelle. They
consist of 52 bronzes and
seven plaster casts, made
between 1926 and 1973.
Maison des Vins-
Cloître des Récollets
1 rue des Récollets. Tel (05) 53 63
57 55. # mid-Jun–mid-Sep: daily;
mid-Sep–mid-Jun: Tue–Sat. ¢ Jan.
The Cloître des Récollets was
built in 1630 on the site of the
former gardens of the
Château de Bergerac. The
16th- and 18th-century
galleries look on to the
courtyard. For a time the
chapel served as a freemason's
hall. It now houses
the Maison des Vins de
Bergerac, which regulates
local wine production and
offers tastings. The starting
point for the "Route des Vins"
is available at the tourist office.
Musée du Vin
et de la Batellerie
5 rue des Conférences. Tel (05) 53
57 80 92. # Tue–Sat (mid-Mar–
mid-Nov: pm Sun). &
This museum is devoted to
the history of river shipping and the local wine trade. The
displays include a wide
variety of artifacts, models,
documents, photographs,
and archive materials that
have been donated by boatowning
and wine-producing
families in the area.
BERGERAC WINES
Bergerac wines were highly thought-of in
England during the Hundred Years' War, and in
Holland when the town was a Protestant
stronghold, but their renown goes back as far as
the 13th century. Today there are 12,400ha
(306,400 acres) of vineyards in the area, with 13
appellations, for red, rosé, and both dry and
sweet white wines, including the famous
Monbazillac: morning mists and autumn sunshine
nurture the pourriture noble mould, giving the
grapes their extra sweetness. For information on
local wine routes, contact the Conseil Interprofessionnel
des Vins de la Région de Bergerac
(CIVRB): (05) 53 63 57 57, www.vins-bergerac.fr
Musée d'Intérêt National
du Tabac
Maison Peyrarède, place du Feu.
Tel (05) 53 63 04 13. # Tue–Sat
(mid-Mar–mid-Nov: pm Sun). 7 &
Created in 1950 by the
Direction des Musées de
France, this museum occupies Maison Peyrarède, a town
house built in 1604 and
restored in 1982. The only one
of its kind in Europe, the
museum traces the history of
tobacco over 3,000 years. Its
collections illustrate the earliest
use of the plant, its spread
throughout the world and the
ways in which it was smoked,
and tackles the anti-smoking
lobby. Various smoking
implements, with details of
their manufacture, are shown.
The importance of tobaccogrowing
in the Dordogne
valley is also highlighted.