СТРАНИЦА В РАЗРАБОТКЕ!
Pézenas (Пезенас) — небольшой живописный городок на юге Франции, между Безье и Монпелье, в регионе Лангедок-Русийон.
Название «Пезенас» произошло от устаревшего Piscenae, родом, по всей видимости, от латинского слова piscenis, что означает, пруд. Согласно легенде, здесь существовало озеро полное рыбы. Впервые Пезенас упоминается в 1189 году, а уже в 1261 году он получил статус королевского города и получил значительные привилегии.
Погода в Пезенасе:
Between the Bas-Languedoc coast and the Hérault hinterland, Pézenas has a great heritage. Fairs were held and Estates convened here, and it was adopted by Molière and his "Illustre Théâtre" troupe of actors. 17th and 18th c. town mansions, paved streets and 16th century bourgeois dwellings form the setting for the house of the Consuls, once the seat of local power, where the Estates of Languedoc convened until the end of the 17th c. Visit its religious heritage: old chapel of the Pénitents Noirs, a theatre since the 19th c., old chapel of the Ursulines and Collégiale St Jean with a "treasure trove" of artefacts from churches of the town. A trip into the surrounding countryside will reveal charming wine estates and wines of great quality. Cultural events are held from April to October. 40 artisans ply their trade all year round. Apart from Molière, other personalities have left their mark on local history, including Paul Vidal de la Blache, inventor of human geography, the singer Boby Lapointe and the chemist Venel. Sights • The old town labelled protected zone and its town mansions of the end of the Middle Ages and private mansions of the 17th and 18th c. • Collegiate church Saint-Jean and its treasure trove. • Museum de Vulliod Saint-Germain. • The Interpretation Centre for Architecture and Heritage
Добраться в Пезенас:
На машине в Пезенас:
На автобусе в Пезенас:
Билеты:
разовый билет (1 час) — 1,60 €
набор из 10 билетов — 10,00 €
до 5 лет — бесплатно
Схема маршрутов автобусов по департаменту Эро
На поезде в Пезенас:
Ближайшие вокзалы: Béziers или Agde.
На самолете в Пезенас: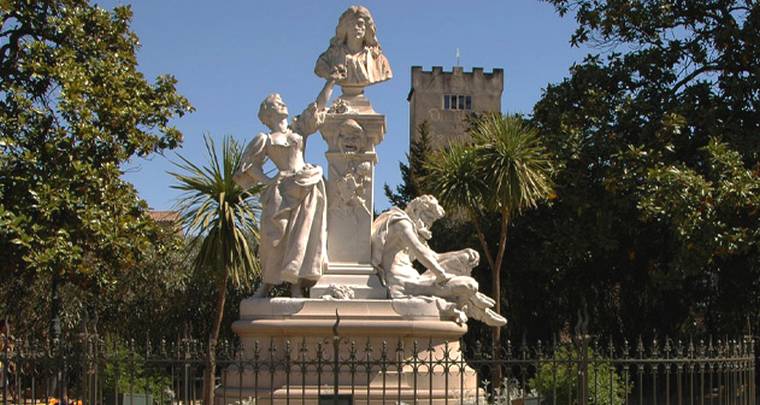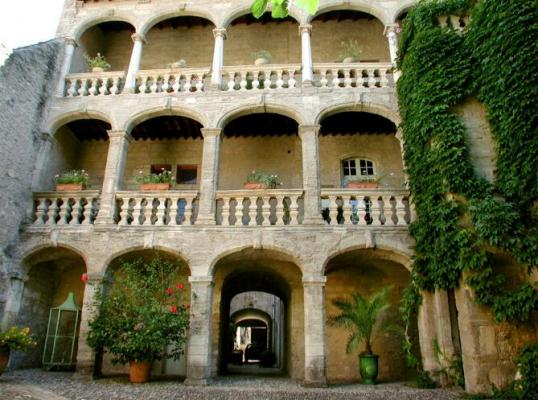 Добраться в Пезенас:
Road: Route nationale 9, which used to pass through the town centre, was replaced by a bypass which now forms the part of the A75 autoroute from Clermont-Ferrand to Béziers.
Rail: The nearest main line station is Agde. Two single track lines used to serve Pézenas. The track from Béziers has been removed, though the station (Gare du Nord) still exists as a cultural centre. Although notionally still part of the national rail network, in reality the line from Vias, near Agde, is closed. It was used into the 21st century in occasional by occasional freight trains serving a quarry further north. Since at least 2011, a section at St Thibéry, some five miles (8.0 km) to the south of Pézenas, is in use as a 'Pedalorail' leisure facility. However, the track remains in place throughout and the Gare du Midi is extant and in use as a medical centre.
Air: The nearest international airport is Béziers Cap d'Agde Airport. Daily flights to Paris ceased in early 2009 but, since 2008, international services to the UK and Denmark have been established. Montpellier, Nîmes, Perpignan and Carcassonne are all within easy reach. A small grass airstrip at nearby Nizas was closed in 2014 for the expansion of a quarry.
Посмотреть Пезенас
Pezenas has a nice attractive old town, unspoiled by modern development, with narrow streets to explore as well as some grand 17th century houses. Its town centre was one of the first in France to be protected as an historic monument.
Look out for the magnificent detail as you amble through the lanes. There are example of lovely stone detail to windows and doors, interesting wrought iron balconies and stone staircases. There are numerous imposing houses from the 16th to 18th centuries including the Hotel Jacques Coeur, the Hotel Carion de Nizas and the Hotel de Lacoste among those to look out for.
There is also a well preserved Jewish ghetto in the town dating from the middle ages.
The most important religious monument in Pezenas is the 18th century Collegiale Church of Saint-Jean, above all for the important treasury that it contains. Others include the roman style Church of Saint-Jean-de-Bébian, classified as a historic monument, and the other main church — the Church of Saint-Ursule — also merits a visit.
The town is also reputed for its antique and bric-a-brac shops.
The Tourist Office in Pézenas offers guided tours of the town to help you make the most of a visit. The tourist office itself was once the barbers shop and it was here apparently that Moliere dreamed up some of the characters for his plays.
If you are staying in or close to Pézenas during the evening you can wander through the old town and find a number of inviting restaurants to tempt you.
The town is especially proud of its association with Moliere, who brought his troupe to the town on several occasions, and has a monument to commemorate the fact by the reputed sculptor Jean-Antoine Anjelbert. Budding authors seeking inspiration can visit the Museum de Vulliod Saint-Germain where you can even see Moliere's armchair!
There is also a Museum of Toys, an Arts and Crafts Centre and an interesting Centre for Architecture and Heritage in Pezenas. Each summer Pezenas plays host to the Mirondela de l'Arte, and music and street entertainment takes over the town.
The market day is Saturday in Pezenas.
Музеи Пезенаса
Musée de Vulliod-Saint-Germain
3, rue Albert-Paul Alliès — Pézenas — 0467989059
Housed in a former private mansion, it contains collections of earthenware, furniture and Aubusson tapestries. A few rooms explain and evoke Molière. One of them exhibits the comedian's armchair.
Centre d'Interprétation de l'Architecture et du Patrimoine
Place des États du Languedoc — Pézenas 0467983640.
Interpretation centre for architecture and heritage. Permanent exhibition to watch, hear and touch, an introduction to the discovery of the town of Pézenas and "region of Art and History" architectural heritage.
Musée de la Porte et de la Ferronnerie 5/7 rue Montmorency — Pézenas — 0467983505
Museum of doors and wrought ironwork. Remarkable collection of ancient doors from Pézenas and the surroundings.
Exposition d'Art Sacré et Trésor de la Collégiale Saint-Jean Rue des Chevaliers de Saint-Jean — Pézenas.
Exhibition of religious art and Treasury at Saint-Jean Collegiate church.
Туристический путеводитель по Пезенасу (на англ, фр и нем. PDF)
---
Традиционная кухня
Местные продукты:
The olive an its by-products: oil, olive puree, jam, soap • In the Roman period it was cultivated along the Mediterranean coasts. The olive tree is easy to grow, it can adapt to poor soils and dry climates; its roots go deep in the soil to soak water. It is symbolical of longevity, fertility and maturity. The main olive varieties cultivated in this region are: the Lucques, Picholine, Verdale de l'Hérault, Amellau,Aglandau to quote only a few. Discover the wealth of products deriving from the olive during your visits.
The honey • In the Roman Antiquity, the honey from the Narbonnaise province was reputed to be one of the best. From the Middle Ages on, it was used in China and then in Europe to make gingerbread. It was used as an ingredient for medicine, to crystallize fruits and vegetables associated with vinegar and mustard, to sweeten food, to preserve meat, to make a drink "Hydromel" (water and honey put to fermentation) and so appeared the first alcoholic drink.
Mild onions • Lézignan onions go back a long way, probably first grown in Persia. They have been grown in Lézignan since at least the 17th c. They are sold along the main street.
The fig of Nézignan-l'Evêque • Since Francis I, and maybe before, this village has been standard-bearer for the fig. An experimental orchard has over 80 varieties of this noble specie from Asia Minor, which loves Mediterranean heat and dryness. Its digestive, laxative, mineral and anti-inflammatory properties have been known since Antiquity.
Традиционные блюда Пезенаса:
La Croustade de Bessan
Pastry filled with raisins or chocolate and walnuts. The pastry is available in most of the local bakers' shops.
Le Berlingot de Pézenas
A local speciality of unknown origin. Sugar is formed into a stick and flavoured with essences (aniseed, mint, coffee, lemon, etc.). It keeps for many months. Just one firm, Boudet, makes it now and it is sold in all local pastry shops and groceries
Les Petits Pâtés de Pézenas
A kind of mince pie shaped like a cotton-reel, introduced in the mid-18th c. by the English cook of Clive of India when he stayed in Pézenas, served warm at the start of a meal, with a glass of white wine dry (like Picpoul de Pinet) or sweet (like St-Jean-deMinervois Muscat or Rancio). Sold in all pastry shops in town, it keeps well for a fortnight in the fridge.
Вина Пезенаса
The vine has been cultivated here since antiquity. The varieties adapted to the soils and the Mediterranean climate produce very typical wines adapted to all taste buds.The Pézenas, Coteaux du Languedoc label is produced from the best soils around Pézenas. These are mainly red wines, concentrated and strong tempered, obtained by blends of the 5 AOC varieties: Syrah, Grenache, Mourvèdre, Cinsault and Carignan. The southern limestone plateau bordering the Mediterranean is the home of the varietal AOC Picpoul de Pinet, a crisp white that goes well with the Thau lagoon shellfish and Mediterranean seafood. Clairette d'Adissan is one of the oldest of French wines. They are white sweet or dry wines that can be appreciated as aperitif or dessert wines. In the summertime, the Sauvignon, Chardonnay, Viognier, Merlot, Cabernet-Sauvignon and Terret compose a wide range of light and fresh wines adapted to the climate and among others the famous Bessan Rosé.
Винная выставка
Wine fair • From 5th to 7th May, 2016 from 10 a.m. to 8 p.m. The biggest open air wine fair in the South of France with more than 100 exhibitors (wine producers from the southern half of France) at the Centre Port on the quays
Винный фестиваль
Wine festival • On 4th & 5th, June 2016 in Montagnac: 7th edition. Meet Montagnac wine growers on the Esplanade to taste their new vintage.Wine tasting, guided tours of town, events and activities related to wine, horse-drawn carriages on the wine estates on Sunday.
Обед в виноградниках
Lunch in the vineyard On June, 19th, 2016, meet in the wine domains organising this event (programme in the tourist offices) and share a lunch either a country product plate (15€) or a terroir lunch (30€); a wine tasting will systematically be offered. Registration is compulsory and must be made through the participating wine estates.
Винный фестиваль Кларетт
Clairette wine evening festival This is a «must» among the festivities held in the summer. It gathers more than 2,000 participants each year. Discover the wine Clairette d'Adissan, introduction of new members into the brotherhood Saint Adrien and live music and dance up to the end of the night.
Attractions nearby
Not to be missed when you are at Pezenas is the nearby (12 km) Abbey at Valmagne, a classified historic monument and very beautiful abbey and cloister.
A tour of the surrounding villages in the Val d'Herault is also recommended — they are mostly quite small and clustered around a medieval church, with each having its own interest and characteristics. among others Caux, Castelnau-de-Guers, Pomerols, Nezignac l'Eveque and Florensac are all within easy reach of Pezenas.
Although Pézenas itself is in the countryside most visitors will want to see the sea at some point! We suggest you visit the resort at Cap d'Agde which has a long sandy beach.
Pézenas has had a Protected Area (Secteur sauvegardé) since June 1965, the 14th created by the French Ministry of Culture. The ministry lists 116 historical edifices in Pézenas,[1] more than 30 of which are protected after being classified «Historical Monuments». The main sights include:
The old town centre with narrow streets and Hôtel Privet or Mansions (rather grand Town Houses from the 16th, 17th and 18th centuries, when Pézenas was the seat of the Governors of Languedoc): hôtel de Lacoste, hôtel de Carrion-Nizas, hôtel de Landes de Saint Palais, hôtel Flottes de Sebazan, hôtel d'Alfonce, hôtel Malibran, hôtel l'Epine, hôtel Grasset.
Достопримечательности Пезенаса
The Collégiale Saint-Jean church (18th century), designed by Jean-Baptiste Franque, contains an organ by Jean François Lépine.
Church of Saint-Jean-de-Bébian, romanesque, classed as a Monument historique (Historic monument).
The church of Sainte-Ursule, built in 1686 by the master mason Antoine Carrier, became the parish church after the Concordat.
Molière Monument (1897) by Jean-Antoine Injalbert.
Theatre: What became a theatre was originally built in 1590 as a church — the Chapelle des Pénitents Noirs (chapel of the Black Penitents). After the French Revolution, it was sold as a national asset and converted to a theatre in 1803. Its present internal appearance dates from a general renovation between 1899 and 1901. Subsequently, unchanged, it was used as a theatre until it closed in 1947. The building contains souvenirs of Molière. The property of the commune, the theatre has been classified since 1995 as a monument historique by the French Ministry of Culture.[2] Following more than 10 years of renovation, the richly decorated theatre reopened in May 2012 and may be visited by the public.[3]
L'illustre Théâtre: theatre in converted warehouse, performances all year.
Musée de Vulliod Saint-Germain: museum with collections illustrating the town's history and a room dedicated to Molière. The hôtel particulier that hosts the museum was donated to the city by François, Baron de Vulliod, during the Second World War.
Door museum
Toy museum
Бывшая мэрия Пезенаса: Maison consulaire de Pézenas (ancien Hôtel de Ville).
ИСТОРИЯ
Throughout the centuries
THE ANTIQUITY
The territory of the Hérault valley, which has been inhabited since the protohistory, structured itself rapidly after the Roman conquest. It was teeming with « villae » (Roman countryside estates). The discovery of large wine storehouses in these agricultural estates bears testimony to the cultivation of vines and wine production.
Piscenae was mentioned by Pliny the Elder as having been granted the status of « oppidum latinum » (Latin village) like Luteva (Lodève) and Cessero (Saint Thibéry). Historians identify this settlement as being the origin of Pézenas. Only remains the question of the true site of ancient Pézenas.
PEZENAS-MONTAGNAC: ROYAL TOWNS AND TOWNS OF FAIRS
In the 10th century, a time of economic growth, new villages were created in the Pays de Pézenas. They were specific because they were surrounded by a collective wall of round or oval shape, including the church or the castle. Medieval texts name this type of new urban site a "castrum".
Numerous water-mills for wheat were built on the river. The Knights Templars and then the Hospitalers of Saint John of Jerusalem modified the agricultural landscape. They dried out Pézenas pond and built farms and commanderies.
Two towns rapidly stand out from the other towns and villages that covered the pays de Pézenas: Pézenas and Montagnac. These two towns were referred to as trading towns eversince they belonged to the Capetian royal estate. A cycle of 5 big annual fairs, comparable to the Champagne fairs, united the two towns. They made the Pays prosperous up to the end of the 15th century.
PEZENAS TOWN OF THE GENERAL STATES OF LANGUEDOC
At the beginning of the 16th century, the Governors of Languedoc, all belonging to the family Montmorency, set their place of residence in Pézenas. The States of Languedoc, a regional assembly that voted the taxes for the King and ruled the province, once itinerant, settled in Pézenas for over a hundred years. Pézenas became the capital town of the province. This fame could have stopped in 1632, because of the « Edit des Elus » a royal law that suppressed all the tax privileges of the province. Henry II of Montmorency took the lead of a rebellion that quickly turned into a disaster for Languedoc.


Henry II was wounded and imprisoned at the battle of Castelnaudary; he was beheaded a few days later. Twenty years later, during the Rebellion of the Princes (Fronde in French), Armand of Bourbon, Prince of Conti, decided to go away from Paris and chose to live in the family estate called la Grange des Prés in Pézenas; he inherited it from his mother Charlotte of Montmorency. He was nominated Governor of Languedoc when Gaston d'Orléans died. Pézenas leading role as a political capital was restored. He was Molière's patron from 1650 to 1656.
THE WINE EL DORADO
In the 19th century, the cultivation of vines progressively replaced the other crops. First a supplementary income, wine became the main income of many families. Indeed, thanks to the opening of a new railroad line between Sète and Bordeaux, the wine was exported worldwide. The professions relating to viticulture (coopers, agricultural tool factories and viticultural product factories) as well as trading companies knew a very important development. The former small land holdings were elevated to the rank of castles; nothing was too beautiful to look more noble. The suburbs developed in the towns and villages. A new type of building was created: the wine grower's house.
A VITICULTURAL CRISIS RESULTING IN AN ORGANIZATION BASED ON QUALITY
The viticultural crisis of the beginning of the 20th century, immediately follewed by World War I, stopped the urban development initiated a century ago and the public and private building campaigns.
With the viticulture reorganization, almost each village had its own wine cooperative, a genuine monument dedicated to the wine. Montagnac's cooperative was Europe's largest one in the 1960s.
The reconquest of the old town centres first started in Pézenas with a protected site created in 1965, and was then extended to the villages with the revamping of the architecture and public spaces in the 1970s. The upgrading of architectural heritage had an even larger scope at the end of the 20th century: private and public listed buildings were renovated and are still renovated nowadays.
Château de Pézenas
The site of the Château de Pézenas, a medieval castle in the French town of Pézenas, in the département of l'Hérault, is currently being refurbished with a view to opening to the public.
A castle is first mentioned on the site, a butte just outside and dominating the town, around 990. However, a plaque on the site claims that it was founded by the Celts in 407BC and that the site was also a fortress of Julius Caesar. A document of 1118 records that the Count of Béziers, Bernard Athon, ceded the castellum of Pézenas to his son, Raimon. Louis VIII, in 1226, and Louis IX in 1252, stayed here. The castle became a royal castellany in 1262.
The latest castle was originally built by the Duc de Montmorency, François de Montmorency in 1575 on the domain of Granges des Près. It had seven towers, one of which was used as a chapel. The river, la Peyne, flowed along its walls.
During the 17th century, Cardinal Richelieu, sworn enemy of the Duc de Montmorency Henri II, had promised to abolish the States of the Languedoc, fearing they were too strong and independent of the kingdom of Louis XIII. Following Henri's revolt at the head of the Languedoc States, in 1632 (or 1633, according to tourist information at the site), Richelieu ordered the castle to be destroyed. The inhabitants of Pézenas, so proud of their castle, were humiliated to have to demolish it themselves. Louis XIII gave the materials from the castle, as well as the site, to the Pézenas consuls. The bell was moved to the top of the bell tower at the Collégiale Saint-Jean church. (The tower later collapsed, in 1733, and had to be rebuilt.)
Passing through the town in 1660, Louis XIV remarked of the castle, «En vérité, Messieurs, c'est grand dommage d'avoir fait démolir cette importante place.» («In truth, Sirs, it is a great pity to have demolished this important place.»)
Мольер и Пезенас
In 1647, at hardly 25, young Jean-Baptiste Poquelin, or Molière, began travelling the Languedoc with his Illustre Théâtre troupe, feasting or fasting as opportunity allowed.
Molière went on to become troupe manager and gave up acting tragedy. 1650 was a turning point in their lives; the Languedoc General Estates were held in Pézenas and the Illustre Théâtre was summoned to entertain them, ensuring it a good income for many months. The Estates called on them twice more, in 1653 and 1655. Molière began writing his first plays in Lyon and Béziers: "Le médecin volant" "L'Etourdi" and "La Jalousie du Barbouillé" are not his masterpieces, rather his first experiences as a playwright. In 1653, an important event for the Languedoc was that Armand de Bourbon, Prince of Conti, settled at the Grange des Prés in Pézenas.
This licentious prince held sumptuous court. He asked his secretary to find players to entertain him. With a fancy for the so-called Marquise, Thérèse Gorla du Parc, the secretary invited Molière to come and perform in Pézenas. The prince's favour and bounty ensured a degree of affluence.But "the great do lack in constancy" and the prince was overcome by mysticism. The libertine adopted piety under the guidance of his confessor, the priest Rouquette. In 1658, the troupe went to Paris to seek its fortune and found favour with Louis XIV.The Languedoc and Pézenas inspired Molière for some famous plays: Dom Juan, ou le Festin de Pierre is based on the Prince of Conti; Tartuffe had the features of Rouquette; the Comtesse d'Escarbagnas, those of provincial aristocracy. Molière was forgotten after his death, but Pézenas rekindled his memory in the 19th c. and has set up a memorial where the Comédie Française pays homage.
The memory kept alive by Pézenas is evident in the town's cultural actions. The Centre de Ressources Molière was set up in 1994 in partnership with the national education authority. Pézenas has an A3 drama section and a stage costume school and Béziers a professional drama licence. An Arts and Crafts Centre opened in 1994 to enhance heritage renovation trades and stage professions.
In 2000, to mark the 350th anniversary of Molière's stay in Pézenas, were held a historical reconstruction called "In the eyes of Molière" and an international symposium, the "Molière Biennial".
At the same time, the town asked an expert on Molière to create a Molière website. Its address is www.toutmoliere.net.
The listed 1804 Italian-style theatre is also being restored. Molière never performed there, but it is still a memorable place. It will reopen after many years of work on it. The history shared by Molière and Pézenas has given rise to another project: the Molière memorial site, the only one apart from the Comédie Française to celebrate Molière and his work. None of his personal property remaining, the idea of dramatising his life in an interactive way has taken root and the facility opened in June 2008.
MOLIERE IN THE PAYS DE PEZENAS
In 1645, Molière left Paris to begin travelling the provinces with his troupe "l'Illustre Théâtre".
In 1650, the troupe arrived in Pézenas. During three months, it entertained the Estates' representatives. The troupe was again in Pézenas in 1653 and performed at the Grange des Prés, residence of Prince of Conti. The troupe stayed one more time in Pézenas in 1656. Back in Paris, Molière became King's Louis XIV comedian; the southern people forgot him.
However, a precious relic was still in Pézenas: Barber Gély's wooden armchair, on which Molière liked to sit. But the interest for the comedian and playwright was aroused by the discovery in 1885 of a receipt signed by Molière. Thus a real movement called Molierism was born in France whose climax was the building in Pézenas in 1897 of a building dedicated to Molière.
Since then, Pézenas' inhabitants never forgot Molière any more. Meet on website www.toutmoliere.net
PEZENAS THEATRE
Set in the chapel of the Black Penitents built at the end of the 16th century, the building was converted into a theatre in 1803. This place was the seat of cultural life in Pézenas until it closed in 1947. The theatre had its heydays when "la Comédie Française" performed in the building. It is now restorated. If you wish to read more about the history and restoration, click on the link Livret théâtre de Pézenas (in French version only).
BOBY LAPOINTE
Boby Lapointe was born in Pézenas on 16 April 1922.
He went up to Paris in 1951. In 1954, Bourvil sang "Aragon and Castille" in the film "Poisson d'avril" (April fool). This encouraged Boby to carry on writing. His début was at the Cheval d'Or in 1959.
Boby Lapointe made "silly" songs intelligent. A trivial topic is the foundation for an edifice of puns and other word games to make you roll in the aisles.
Let's quote a few of his songs amongst the imperishable gems he wrote: "La maman des poissons", "La peinture à l'huile", "Ta Katie t'a quitté", "Le tube de toilette".
He was also an actor and a mathematician.
Boby died at the beginning of summer 1972 leaving his work to remember him by and his songs travelling around the world. Every April, his birthplace holds a festival in his honour called the Printival. In 2004, around ten sculptures were unveiled that make an itinerary in the town. All the sculptures are inspired by his songs. A museum dedicated to Boby opened in 2006.
To know everything about him, the official website is: www.bobylapointe.com
Museums & Exhibitions
INTERPRETATION CENTRE FOR THE…

Wine discovery centre 1 rue Jean Jaurès in Montagnac. Tel.: 04.67.24.18.55…

MUSEUM OF THE HISTORY OF…

Museum of the history of perfume and distillery industries: free entrance.

Opening times from July to September, open from 9 a.m. to 12 noon and 2 to 7 p.m., closed on Sunday.
From October to June open from 9 a.m. to 12 noon and 2 to 6 p.m. Closed Sunday and Monday.
23rd January to 29th February, open Thursday, Friday, Saturday from 9 a.m. to 12 noon and 2 to 6 p.m.
Group visits and conferences are possible on appointment. Shop.

Parfums Marty
Route de Montblanc in Saint-Thibéry
Tel. 04 67 77 75 94 – Fax 04 67 77 00 08
www.parfums-marty.com — contact@parfums-marty.com

BOBY LAPOINTE'S MUSEUM…

1, place Gambetta
34120 Pézenas

Boby Lapointe was born in Pézenas on 16 April 1922. He went up to Paris in 1951. In 1954, Bourvil sang "Aragon and Castille" in the film "Poisson d'avril" (April fool). This encouraged Boby to carry on writing. Boby Lapointe made "silly" songs intelligent. A trivial topic is the foundation for an edifice of puns and other word games to make you roll in the aisles. He was also an actor and a mathematician. He died in 1972 aged 50.
Every April, his birthplace holds a festival in his honour: le Printival. The Boby Lapointe Museum is an exhibition centre with pictures, records, DVDs, CDs, books about Boby Lapointe.

Opening hours: museum open from Tuesday to Sunday. November to March: from 10 a.m. to 12 noon and 2 to 6 p.m. and on Sunday from 2 to 6 p.m. Open from Monday to Sunday from April to October, from 10 a.m. to 12 noon and 2 to 7 p.m. Closed in January.

Prices: adults €2, teenagers from 12 to 18 years € 0.50, groups over 15 persons € 1.50. Free for members of non-profit organisation "Les Amis de Boby".

Tel. 04 67 210 287
www.bobylapointe.fr
au-pays-de-boby@orange.fr

---
2 bis rue Montmorency
34120 PEZENAS
Tel./Fax. 04 67 35 92 88
www.museedujouetpezenas.com
museedujouet@free.fr
To get away from it all, you can walk at leisure through the 5 rooms among the 6,000 items of this astonishing collection (toys from France, Germany, Spain, but also Japan and America). The importance of the collection allows the regular change of the items on display. There you might find toys that are familiar to you, others that you would have loved to own and others from another age. Go back in time and keep dreaming.
Opening hours:
July, August, September: everyday from 10 a.m. to 7 p.m.
From October to June: everyday except Monday (except Holy Day) from 2 p.m. to 6 p.m. School holidays: open everyday from 2 to 6 p.m.
Closed on Christmas Day, 1st January, from 1st January to 4thFebruary, Mardi Gras, from 6th to 25th March and from 3rd to 15th October. Group visits possible on appointment including other days and times.
2 treasure hunts are available for children from 3 years in French, English, German, Spanish, Italian and Dutch.
Prices: adult: €5, senior citizens: €4, reduced: (children, students, groups, unemployed…) €3,50.
Special rate for families: free for children under 6 years.
Free car park for our visitors. Access and toilets for disabled persons.
Exhibition of religious art and crafts
Exhibition of religious art and Treasury at St Jean's collegiate church. Liturgical ornaments, chalices, and ciborium, paintings…
Opening hours:
— June to November: Monday to Saturday from 3.30 pm to 6.30 pm;
— December to May: Tuesday to Saturday open from 2 pm to 6 pm.
Church St Ursule will be open in the summer from 3.30 to 5.30 p.m. on Thursday and Saturday morning from 10 to 11 a.m.
Information: 04 67 98 88 04.
Exhibition of religious art and ancient history
In the former White Penitents' chapel, by the church, the exhition of religious art displays among else memorabilia of the White Penitents in Nézignan l'Evêque.
Opening hours:
In July and August from 10 a.m. to 12 noon and 5.30 to 7 p.m. Closed on Tuesday.
MUSEUM OF DOORS AND WROUGHT…
5/7 rue Montmorency
34120 Pézenas
An unusual place near the chateau to visit the past (free of charge). Collection of doors (15th to 20th c.) from Pézenas and the area, ironwork, doorknockers, old implements, etc.
Opening hours: museum temporary closed
Museum open from Monday to Friday.
Closed in January and February
November, December from 2 to 5.15 p.m.
March, April, May, October: open from 10 a.m. to 12.30 and 2.30 to 5.30 p.m.
June, September: open from 10 a.m. to 12.30 and 3.30 to 6.30 p.m.
July and August from 10 a.m. to 12.30 and 3.30 to 7 p.m., Saturday from 3 to 7 p.m. This museum is the property of a non-profit organisation; volunteers open it for your enjoyment, please call in advance to make sure it is open according to schedule.
Exceptional openings: European Heritage Days in September. Open on appointment on request.
Tel: 04 67 98 35 05
sarl.ivorra@club-internet.fr
VULLIOD-SAINT-GERMAIN MUSEUM…
Musée de France
3, rue Albert-Paul Alliès
34120 Pézenas
Founded in 1942 and housed in a 16th and 18th c. property bequeathed the same year, it contains collections of furniture, earthenware and remarkable Aubusson tapestries relating the history of Alexander the Great. Because of the return to Pézenas of the original wooden armchair, that used to be in the Barber Gély's barbershop, an exhibition displays in 3 rooms the souvenirs of the famous author. This purchase was financed by a national fund raising programme launched by the non-profit organisation "les Amis de Pézenas" (the Friends of Pézenas).
Opening times and days:
June to September, from 10 a.m. to 12 noon and 2 to 7 p.m.
In July and August, late opening until 9 p.m. on Wednesday and Friday.
From 14th February to 31st May and from 1st October to 13th November open from 10 a.m. to 12 noon and 2 to 5.30 p.m.
Closed on Monday all year round.
Closed from 13th November to 14th February.
Entrance fee: € 1. Free for accompanied minors (less than 18 years), free for members of non-profit organisation "les Amis de Pézenas", free for visitors of the Scénovision Molière with presentation of their entrance ticket.
Tel. 04 67 98 90 59
musee.pezenas34120@orange.fr
Local specialities
Le petit pâté de Pézenas: a small sweet/savoury pie supposedly made to a recipe from Clive of India. (see below)
Le berlingot de Pézenas: boiled sugar sweets
Le petit pâté de Pézenas
The size and shape of a large cotton reel, these little sweet, spiced mutton pies are a golden brown, crispy pastry with a moist, sweet inside. They can be eaten as an hors d'oeuvre, with a salad or as a dessert. They are cooked in patisseries all over the town, but their origin is far from local. Tradition has it that Lord Clive brought the recipe from India and taught it to the pastry makers of Pézenas when he was staying at the Château de Larzac in 1768. It is more likely is that his servants were responsible.
In the BBC TV programme MasterChef: The Professionals, broadcast on 27 November 2012, Michel Roux, Jr. demonstrated how to cook the dish and set it as the classic recipe for contestants to make.
Le Poulain de Pézenas
[
edit
]
Like several of the surrounding towns and villages, Pézenas has a «totem animal»; in this case a huge hobby horse called Le Poulain (lo poulain or lo polin in Occitan), which means «the colt». It is said to commemorate a visit to the town in 1226 by Louis VIII, during which the king's favourite mare fell ill. She had to be left behind in Pézenas while Louis continued with the Albigensian Crusade. On his return he was astonished to find that not only was his mare now fully recovered, but she had also given birth to a fine colt, which was duly presented to him, adorned with ribbons. In return he decreed that the town should construct a wooden colt to be used to celebrate all its public festivities. The first mention of the custom is in 1615. The earliest publication of the legend accounting for the horse's existence dates from 1701.[5]
The Poulain appears for Mardi Gras and other festive occasions.[6] It is carried by nine men and led by another, accompanied by a band of musicians. The Poulain has a realistically carved wooden head, with snapping jaws and an extending neck that can reach up to first-floor windows; l'obole (small amounts of money) or other offerings put into its mouth tumble down inside its neck. Its semi-cylindrical body is covered with a dark blue cloth decorated with stars and the coat of arms of Pézenas. Below the frame it has a tricolor skirt.[7]
The Poulain carries two effigies on its back, one male, one female, called Estieinou and Estieinette or Estieineta (sometimes spelled Estiénon and Estiéneta in the French manner), recalling another royal occasion when Louis XIII visited the town in 1622. A follower of the King, the Maréchal de Bassompierre, was crossing the river Peyne on horseback. He saw a peasant-woman attempting the crossing on foot and gallantly offered her a seat on his horse. The unlikely couple's arrival in the town caused great amusement and the two effigies were made to remember the event.[8]
Экскурсии:
Introduction to Pézenas
Tours all year round. Programme available at the tourist office.
Guided tours of the historical centre with a conference guide in French in July and August: Mondays, Tuesdays, Wednesdays, Fridays at 5 p.m. and Saturdays at 11 a.m.
In September, on Wednesdays at 3 p.m.
Guided tour of Pézenas in English Thursday 21st July & 4th and 18th August at 10 a.m.
Price for the tour: €6 (tour with at least 5 persons).
Tel. 00 33 (0)4 67 98 36 40
Visit of Pézenas with a visit map
• Discover the rich architectural heritage of the town through this marked itinerary.
Price: €2, available at the tourist office in English.
Visits for groups
• All year long with previous booking: 00 33 4 67 98 83 09, flyer to download on www.pezenas-tourisme.fr
Historical centre of Pézenas, Theme day tour Molière: visit on the footsteps of Molière and Scenovision Molière in English. Duration: 1 ½ hour to 2 hours.
Group rate up to 25 persons: € 85. From 26 to 50 persons: € 120 .
"Greeters" Tour of Pézenas
Discover the stories in the history of Pézenas
Free 1 hour tour in English and French.
Tour from beginning of July to 3 October every Friday through Monday at 10 a.m. in French and English and in English only at 5.30 pm.
No booking necessary / Meet in front of Pézenas Tourist Office
The soap factory Pezenas
Pézenas' soap factory is making handcrafted and natural soaps with organic shea butter and also vegetable candles. It proposes free visits on your own but also guided tours with a fee and informative data for groups from at least 15 persons (groups of 25 persons with a maximum of 50 persons). The production made on the premises is visible all year round in the workshop/showroom of 130 m2, located just opposite the tourist office.Opening times and days:
From Tuesday to Saturday 10 a.m. to 6 p.m. Sunday from 2 to 6 p.m. – Closed on Monday.
Visits without guide can be made with no previous notice, whereas guided tours must be booked in advance and last 1 hour, school groups: €2 per child, a 12 g soap is offered.SARL Savonnerie Pézenas
8 Place des Etats du Languedoc
Shop: 17 rue de la Foire
34120 Pézenas
Tel. + 33 (0)4.67.37.97.48
Fax +33 (0)9 56 25 21 37
Mobile phone +33 (0)6.28.38.48.48
www.savonnerie-pezenas.fr
info@savonnerie-pezenas.fr
Visit near Pezenas with France This Way reviews
… or see ALL recommended places to visit in Herault
Tourist classifications
Pezenas has received the following tourist classifications: recommended detour town (plus beau detour); historical protected town centre' (secteur sauvegardé)
erritory